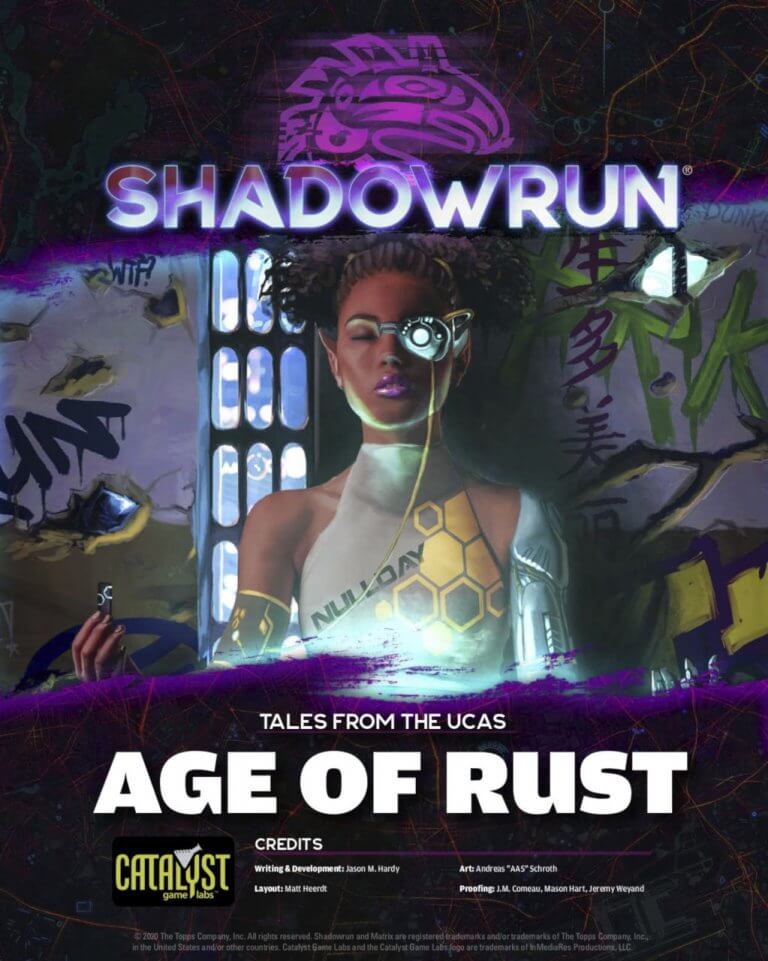 Reality keeps trying to out-dystopia Shadowrun, but we here at Shadowrun Central aren't quitters! We're hard at work making the Sixth World both bleaker and more fun than reality, and new words are coming your way for your reading and gaming enjoyment!
First, in the gaming category we have the new PDF, Age of Rust (Catalyst store, DriveThruRPG). This book launches a new line called Tales from the UCAS, designed to give in-universe data and related game information about what's happening in the UCAS after the ruinous events of Cutting Black. Age of Rust focuses on the Midwest, specifically Omaha, looking at the power vacuum left behind after NORAD, the larger corps, and much of the government pulls out. What's left? Plenty! Including an upstart corp with unclear intentions, a secret meeting of Infected in a grand mansion, and a possible sighting of the devil! Check it out to learn its secrets!
On the fiction side of the ledger, we have an advance sighting of Rusty Zimmerman's newest Jimmy Kincaid adventure, a novella called "Chaser." It's due out May 13 but can be pre-ordered now! Here are the details:
Chaser
$2.99
Streets on Fire
A vicious magical attack on a street gang isn't a case paranormal P.I. Jimmy Kincaid would normally pick up. But when a fellow private eye asks him to look into it, and he learns the gang was doing a charity run for a church—a church Jimmy knows quite well—when they were attacked, his professional curiosity is raised.
But his investigation quickly leads to a tangled maze of clues and dead-ends. Someone—or something—is prowling the streets of Puyallup, looking to incinerate whoever crosses their path. And Jimmy's got to find them—and stop them—before the entire neighborhood goes up in flames.
But whoever's looking to light innocent victims on fire made one mistake—they're doing it in Kincaid's backyard. And Jimmy's never taken kindly to trespassers …
That's all for the moment, but that's certainly not all that's coming! Keep watching this space for news on new books and other surprises!