Convention weeks are exhausting, but also a good reminder why we love them. Origins and Gen Con are often the first time I get to see physical copies of Shadowrun stuff, and it's always exciting to open boxes—it's Christmas in June!
I had already seen a physical copy of the Shadowrun, Sixth World Beginner Box, but this show gave me my first chance to hold the Neo-Anarchist Streetpedia, No Future, and our dice and Edge tokens set. Our art and design people rocked it—they are all beautiful! But in particular I want to share the cover of No Future, with its AR slipcover and gritty reality main cover. Echo Chernik is one of our favorite artists for a reason, and she made a gorgeous, striking image.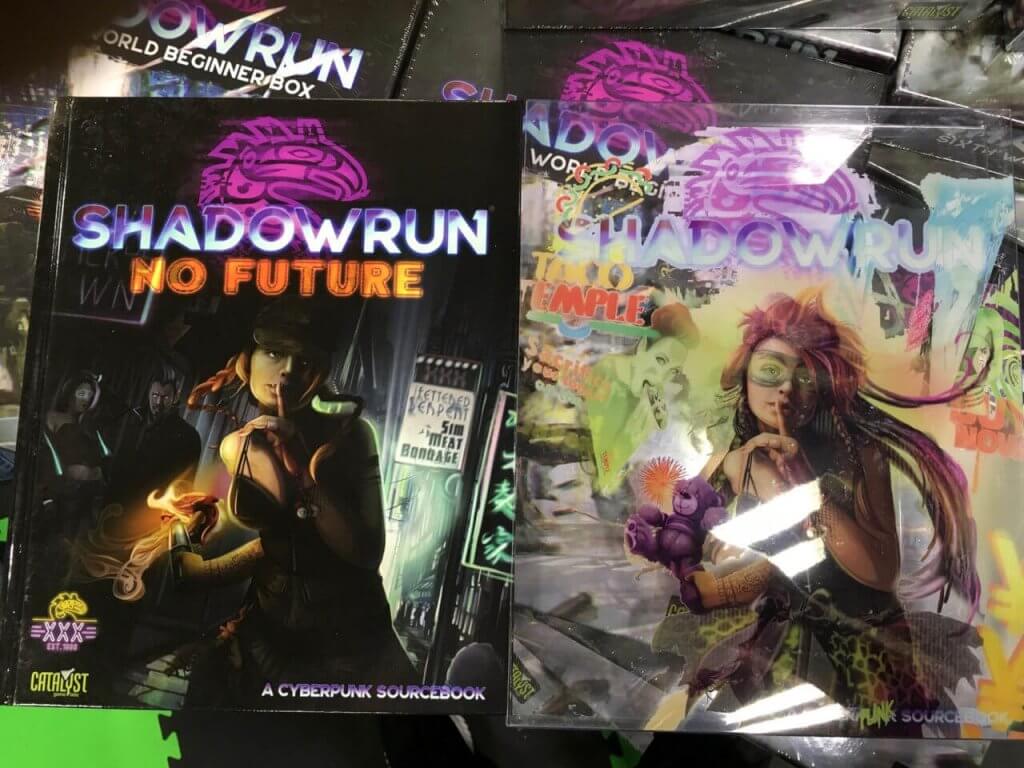 The star of the show, of course, was the Beginner Box. The response was tremendous, and we sold more of them than any Shadowrun RPG item at Origins in the past ten years (and possibly longer, but ten years is as far as my personal memory goes). Having lots of boxes to sell means I get to experiment with different stacking styles—this was my beginning-of-day-four stack. It was much smaller at day's end!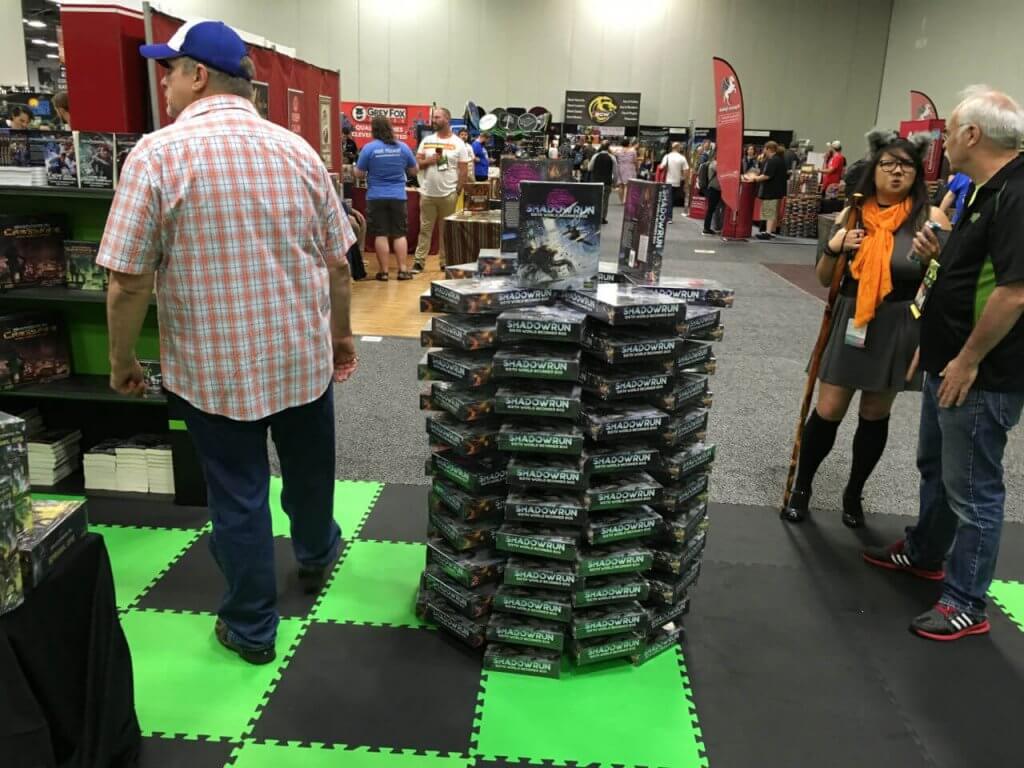 Shadowrun art was everywhere at the show. Our booth featured a large banner with the cover art from the Shadowrun, Sixth World core rulebook.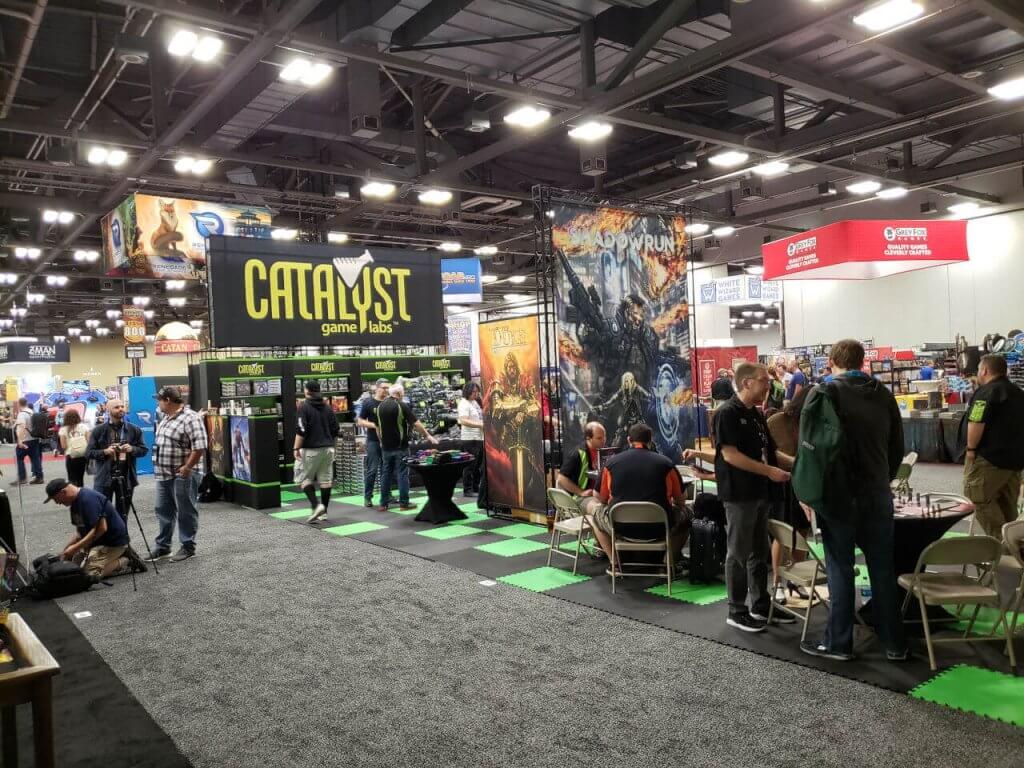 A staircase leading to the convention hall featured a rogues' gallery of Sixth World characters, set on a stunning city backdrop.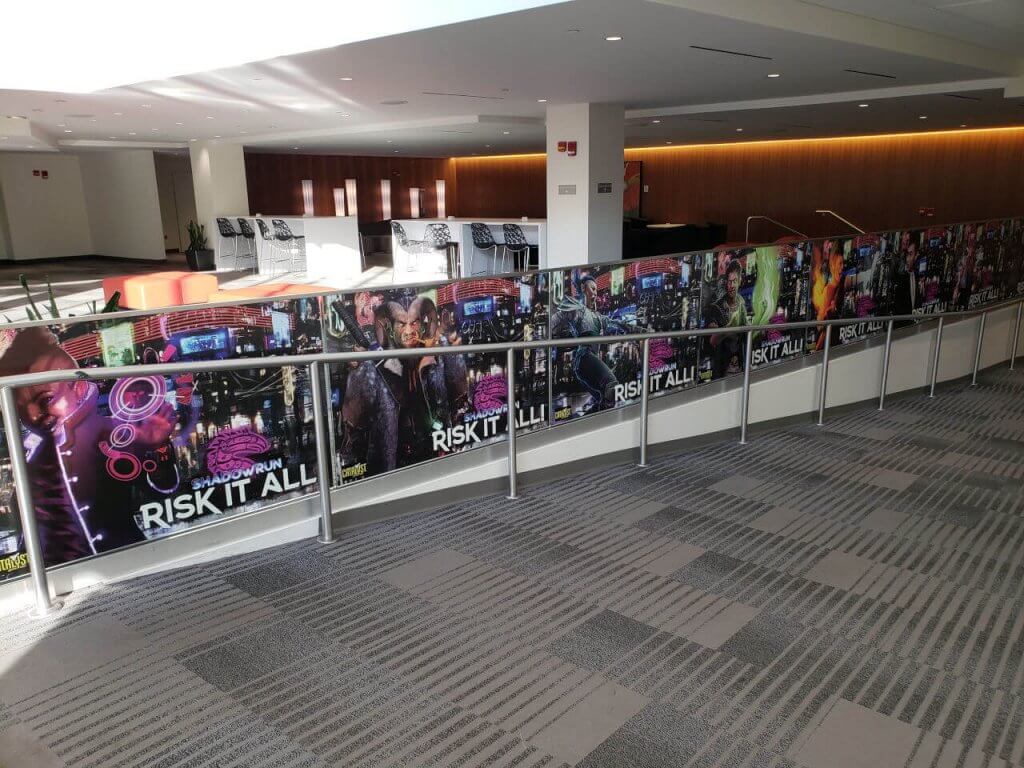 And the gaming room was easy to find, thanks to this long banner calling attention to it.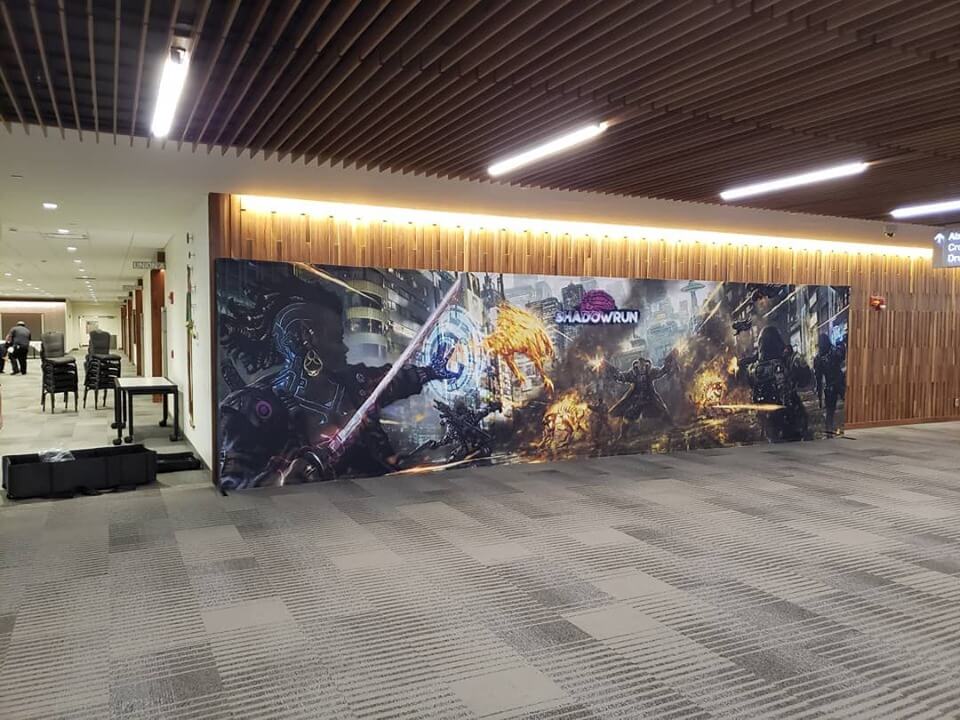 And that gaming room was busy! Our demo agents, as always, went above and beyond to give as many gamers as possible a great gaming experience, and more than 1,100 players sat at the tables in the room. We love the enthusiasm for Shadowrun we see at Origins, and we love our demo agents. (And if you're interested in joining one of the best teams in gaming, send an inquiry to the Catalyst Demo Team Facebook page. We're looking for a few good people for Gen Con!)
And, of course, this is only part of the overall experience. Talking to friends, teaching people how to play different games, learning new games, rolling lots of dice, seeing how many dice I can fit into our new dice bags, and making unending strings of jokes that are pretty much just funny to me—that's what a con's about! And all you great Shadowrun people helped make this one especially memorable!
Now back to working on that character dossier we promise you for Emu the rigger!